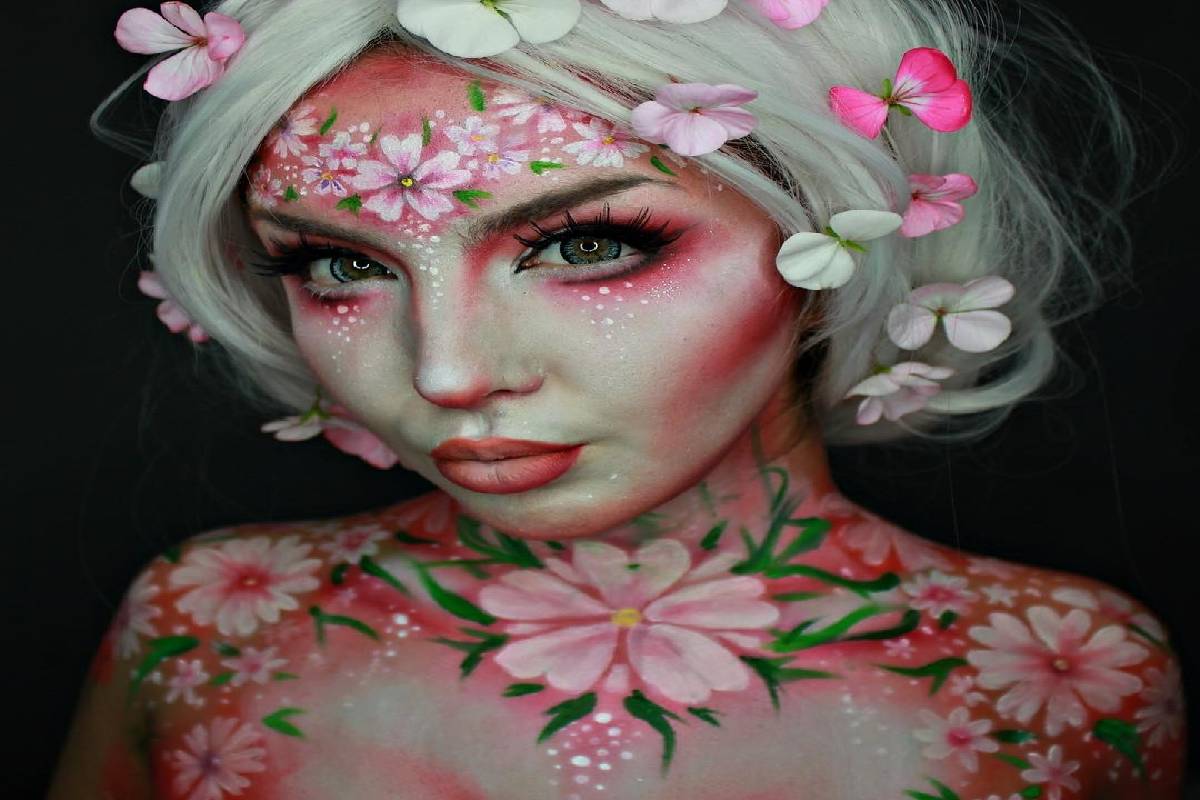 Body Makeup – Types of Body Makeup and More
Body Makeup
Body makeup is a way of artistic expression, where the painting is the protagonist. It is the art form of expressing the ingenuity and skills of the person.
There are different types of body makeup, from artistic to Fantasy, used for theatre and television.
Types of body makeup
Body makeup is about making your body a work of art. It is divided into several types.
Body painting makeup:
It is a form of body makeup that focuses on capturing designs on the skin, using airbrushes or simply brushes and brushes.
Pregnant women use this technique a lot since pregnancy symbolizes a new life, and it is a reason for art.
Fantasy body makeup:
Fantasy usually has a lot of glitter and frost, bright and striking colors. They are generally used a lot in people who tend to work at events, circuses, parties, and television.
This technique takes a lot of imagination, and the body provides the movement to make it look fascinating.
Artistic body makeup:
Art is the expression of emotions, the senses, and the most characteristic events of life. Capturing art on the body as an artistic representation awakens many's minds.
According to roxanarodriguezortiz.com, in his blog, describes the body as an art object,
"The body as an artistic representation has as much history as Altamira's paintings.
However, as a protagonist, the body as an art object as an entity that experiences mutations. And metamorphosis, even transgressing reality, has its origin in the middle of the last century.
Body makeup with effects:
Makeup based on relief, more realistic and special effects that put more than one to suffer a scare in different famous films.
A makeup made by experts in the field who try to personify a character by creating high relief textures, almost actual.
In general, moulds and special plaster prostheses are used to recreate a new character. This type of Makeup takes many hours to perform since they are unique and innovative techniques.
How can we Hide scars, stretch marks, and blemishes with body makeup?
Many girls are opting for this method. Did you think that the foundation only worked to correct imperfections on your face?
Well, the answer is no. The makeup base and compact powders cover some spots on the skin found on the arms, legs.
But if you are trying to show off a natural tan and do not want to expose yourself to the sun, some products will help you achieve your skin's desired tone.
Body is possible and express. It works very well for those pale-skinned girls who want to add a touch of color to their legs.
The DERMABLEN product helps you get the tone you wish to. It resists water and is perfect for covering blemishes and tattoos, available by amazon.
A lightweight, buildable, mixable body base formula hydrates skin all day and protects with SPF 25.
It provided 16 hours of comfortable wear that is stain resistant, suitable for all skin types and available in 12 shades of skin tones fade-proof.
Profits:
Tattoo coverage.
Covers varicose veins, stretch marks
Reduces scars, birthmarks.
Body contouring.
Also Read: How to Thin Nail Polish? – Quick and Temporary Solutions, and More