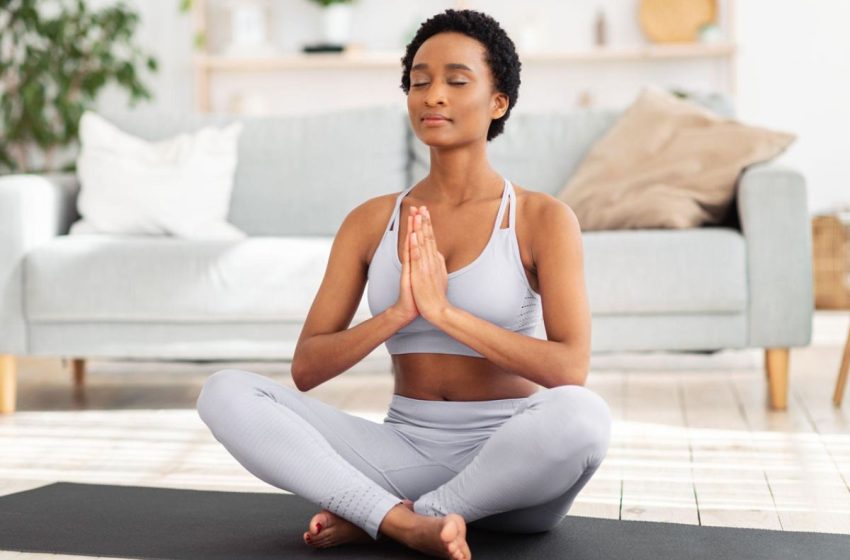 The Benefits of Yoga: Why You Should Start Practicing Today
In today's fast-paced and stress-filled world, finding moments of tranquility and inner balance has become more crucial than ever. Amidst the chaos, there exists a timeless practice that holds the power to transform both body and mind – yoga. The ancient art of yoga offers many benefits that can enhance your physical well-being, improve mental clarity, and foster a deeper connection with your inner self. If you have ever wondered why yoga has garnered such a widespread following, it's time to unravel the secrets and discover why you should start practicing today.
Types of Yoga for Your Mind, Body, and More…
If you've practiced yoga for years, you are might familiar with some of these types. Here are some popular types of yoga, also known as preventive medicine, that can help promote physical and mental health and general well-being.
Ashtanga Yoga
This physically demanding and structured style follows a specific sequence of postures. Ashtanga is best suited for those looking for a more rigorous and disciplined practice, as this yoga uses the same poses and sequences to create a rapid and fluid connection between movement and breath.
Bikram Yoga
Practicing Bikram yoga, also known as hot yoga, involves performing 26 poses and two specific breathing exercises in a room heated to about 105 degrees Fahrenheit with a humidity level of roughly 40%. This physically challenging form of yoga aims to enhance flexibility and range of motion while eliminating toxins from the body. The Bikram sequence of poses is designed to improve balance, strength, and flexibility by utilizing the heat and humidity of the room.
Hatha yoga
Hatha yoga is a gentle and foundational style of yoga that emphasizes physical postures and breath control. It is great for beginners and helps improve flexibility, balance, and strength.
Iyengar Yoga
Iyengar yoga emphasizes precision and alignment in each posture. This practice uses props such as blocks, straps, and bolsters to assist in achieving proper alignment and balance. Iyengar yoga helps improve strength, flexibility, and body awareness.
Kripalu Yoga
Kripalu yoga teaches practitioners to be mindful of their bodies, accept them as they are, and learn from them. Yoga classes for this typically begin with breath work and dynamic stretches, then moves into static poses, and end with a period of relaxation.
Kundalini Yoga
Kundalini yoga is a mind-body practice that uses breathwork, postures, and meditation to awaken and channel the body's latent energy. A typical Kundalini yoga class begins with chanting and ends with singing, with the middle portion of the yoga class devoted to a series of poses, deep breathing exercises, and meditations that are designed to achieve a specific goal.
Prenatal Yoga
Prenatal yoga is a type of yoga that is specifically designed for pregnant women. It uses gentle and safe poses that can help improve flexibility, strength, and balance. Prenatal yoga can also help to reduce stress and anxiety, such as generalized anxiety disorder and social anxiety. It can also prepare women for childbirth.
Power Yoga
Power yoga is a vigorous and athletic style influenced by Ashtanga yoga. It focuses on building strength, stamina, and flexibility through a fast-paced sequence of dynamic poses. Power yoga is often practiced in a heated room.
Restorative Yoga
This is a relaxing form of yoga that involves holding four or five simple poses for extended periods of time. Props such as blankets and bolsters are used to support the body, allowing the practitioner to fall into deep relaxation without exerting any effort.
Sivananda
This yoga is based on a five-point philosophy emphasizing the importance of proper breathing, relaxation, diet, exercise, and positive thinking. These five elements work together to create a healthy yogic lifestyle.
The 12 basic asanas in Sivananda yoga are designed to improve flexibility, strengthen the body and promote good circulation. They are also said to have several mental and emotional benefits, such as reducing stress, improving focus, and boosting self-esteem.
Viniyoga
Viniyoga emphasizes adaptation and personalization. It focuses on the breath and how it can connect the body and mind.
The sequences are designed to be repeated and held, allowing for a deep exploration of the poses.
Vinyasa Yoga
This dynamic and flowing style of yoga synchronizes movement with breath. Vinyasa yoga helps build strength, stamina, and mindfulness.
Yin Yoga
This is a slow-paced style of yoga that focuses on holding passive poses for extended periods of time. This type of yoga targets the body's deep connective tissues, including ligaments, joints, bones, and fascia.
Benefits of Yoga for the Mind, Body, and Spirit
The benefits of yoga practice are numerous and encompass both the physical and mental aspects of our well-being. With so many benefits, it's no wonder that more and more people are turning to yoga as a way to enhance their health and well-being.
Physical Benefits of Yoga
Improved Flexibility and Increased Range of Motion
Regular yoga involves stretches and poses that effectively lengthen and strengthen muscles and connective tissues in the body. This training improves muscle suppleness and pliability, thereby enhancing the overall range of motion. This aspect of yoga is particularly advantageous for individuals seeking to enhance mobility and minimize the risk of injury.
Yoga practice reduces muscle tension while promoting increased blood and oxygen flow to the muscles. As a result, it positively impacts posture, lowers the likelihood of chronic pain development, and ultimately enhances overall quality of life.
The design of yoga poses specifically targets the stretching of muscles and connective tissues. Holding these poses gradually elongates the muscles, contributing to increased flexibility. As a result, joint mobility improves over time, allowing for a wider range of motion.
Examples:
Downward Facing Dog
Bridge Pose
Butterfly Pose
Seated Forward Bend
Triangle Pose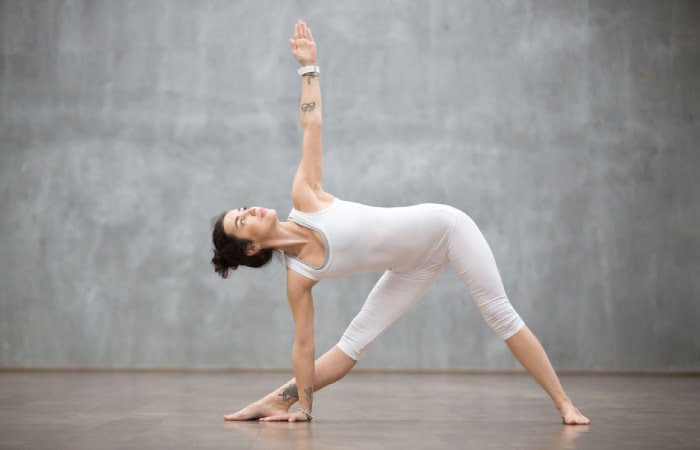 Strengthening and Toning of Muscles
Isometric contractions: This is highly effective for building strength.  Many yoga postures involve holding the body in a static position, which requires the muscles to work against resistance.
Bodyweight resistance: Unlike weightlifting or other forms of resistance training, yoga uses only the body's weight as resistance. This means that the muscles have to work harder to support the body, increasing muscle tone and definition.
Targeted muscle engagement: Each yoga pose targets specific muscle groups, which helps ensure that all body areas are worked evenly. For example, the warrior II pose targets the legs, hips, and arms, while the plank pose works the core, arms, and shoulders.
Examples
Four-limbed staff pose (Low plank)
Bridge Pose
Plank Pose
Crescent Lunge
Chair Pose
Enhanced Balance and Posture
By targeting the muscles and joints that are responsible for maintaining proper alignment and stability, you enhance balance and proper posture. Practicing yoga postures requires the engagement of core muscles and smaller stabilizing muscles throughout the body, which are often neglected in other forms of exercise. When these muscles are strengthened and activated, they help to improve overall balance and posture.
Yoga incorporates mindfulness and body awareness. This helps individuals to tune into their posture and make adjustments as needed.
Conscious breathing practices can also help to improve posture by engaging the diaphragm and other muscles involved in breathing.
Examples:
Tree Pose
Warrior Poses (I, II, III)
Half Moon Pose
Triangle Pose
Mountain Pose
Side Plank
Eagle Pose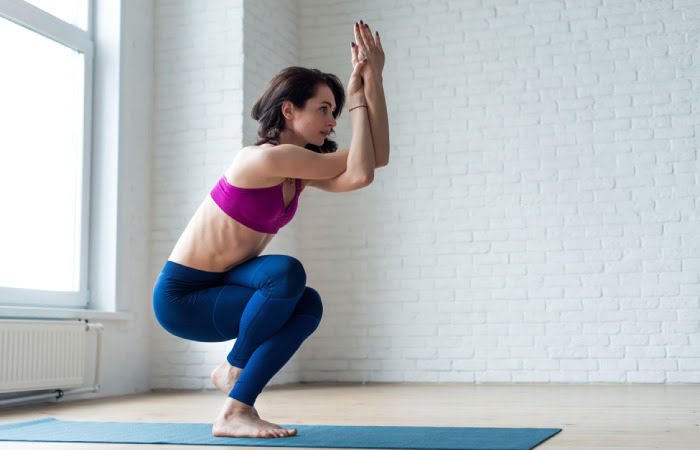 Boosted Metabolism and Weight Management
By reducing stress levels: Elevated stress levels can result in heightened cortisol production, a hormone that can hinder metabolism and contribute to weight gain. Yoga, with its focus on breath and relaxation, can help reduce stress levels and decrease the production of cortisol.
Certain poses can help stimulate the thyroid gland, which regulates metabolism. Poses like shoulder stand, plow pose, and fish pose can help stimulate the thyroid gland and improve metabolism.
By building lean muscle mass: Certain yoga poses like warrior, chair, and downward dog can help strengthen and tone muscles.
By Promoting mindful eating habits: Practicing yoga regularly can increase awareness of the body and its needs, leading to more mindful eating habits. When we eat mindfully, we tend to eat more slowly, chew our food more thoroughly, and enjoy our food more, which can lead to better digestion and improved metabolism.
Examples:
Sun Salutations
Plank Pose
Warrior II Pose
Boat Pose
Cobra Pose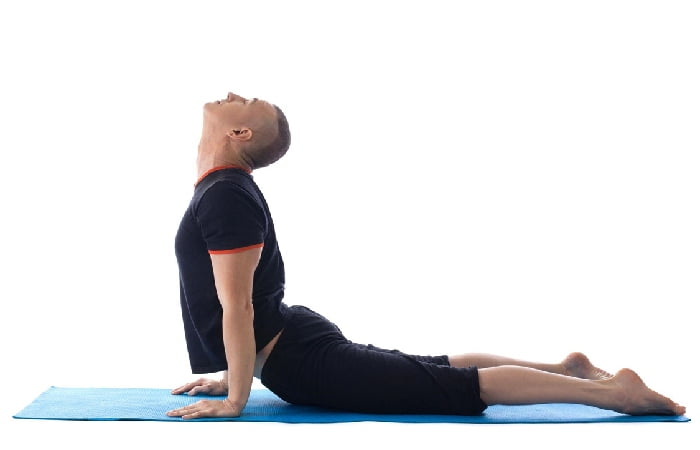 Improved Cardiovascular Health
By reducing stress levels: Elevated stress levels can also lead to high blood pressure and increased heart rate, damaging the heart and blood vessels over time. Yoga helps to reduce stress by promoting relaxation, increasing mindfulness, and reducing anxiety levels.
By increasing the heart rate during practice: This helps to strengthen the heart muscle and improve blood circulation throughout the body. The various postures and movements involved in yoga can also improve flexibility, which helps reduce the risk of heart disease and stroke.
Yoga practice help lessens the risk of heart disease in people with high cholesterol or diabetes. This is because yoga can lower cholesterol levels and improve blood sugar control. Both of these factors can contribute to the development of heart disease.
Examples:
Mountain Pose
Downward-Facing Dog
Warrior II
Bridge Pose
Camel Pose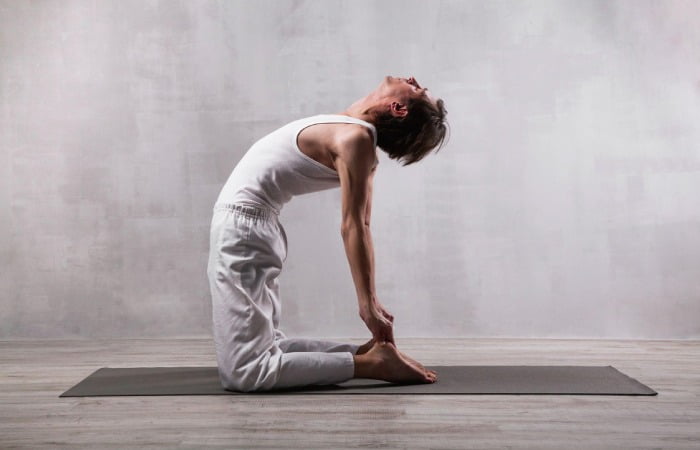 Mental Health Benefits of Yoga
Stress Reduction and Relaxation
The physical postures, or asanas, help release tension and stiffness in the body, while the deep breathing techniques help calm the mind and reduce feelings of anxiety or stress. Yoga helps to calm the mind and focus on the present moment, reducing the impact of stressful thoughts.
Regulate the body's stress response system, which releases cortisol, a hormone released when the body is under stress. With regular practice, yoga can help reduce cortisol levels, which in turn can reduce symptoms of stress and anxiety.
Examples:
Child's Pose
Downward Facing Dog
Cat-Cow Pose
Corpse Pose
Legs-Up-the-Wall
Forward Fold
Easy Pose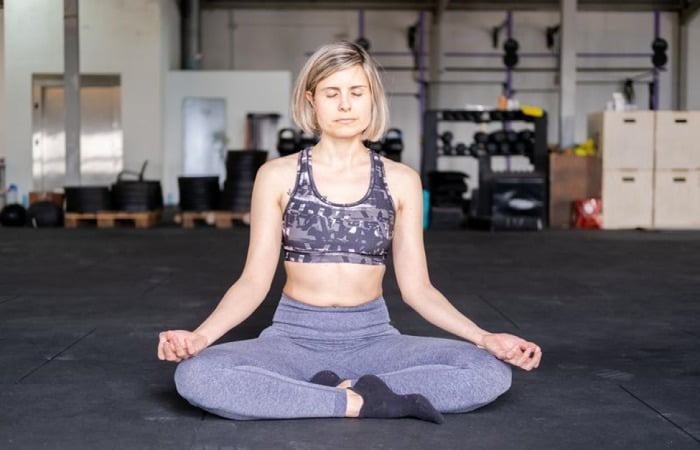 Increased Mental Clarity and Focus
By reducing stress and anxiety: Yoga's deep breathing techniques and meditation can help calm the mind, reduce stress, and improve focus.
Yoga increases blood flow to the brain, boosting cognitive function and enhancing mental clarity.
Examples
Yoga inversions, like headstands or shoulder stands
Eagle pose
Tree pose
Warrior III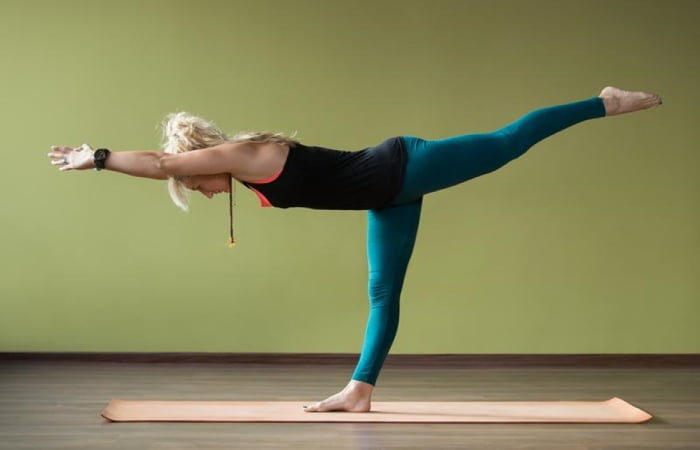 Improved Sleep Quality
By reducing stress and anxiety levels: Stress and anxiety can disrupt the natural sleep cycle, making it difficult to fall or stay asleep throughout the night. Practicing yoga can help to calm the mind and body, leading to a more restful night's sleep.
By promoting relaxation and reducing muscle tension: Certain yoga poses, such as the corpse pose or the child's pose, can help to release tension in the body, leading to better sleep quality.
By regulating the body's circadian rhythm: The circadian rhythm is the body's internal clock that regulates sleep-wake cycles. Practicing yoga can help reset the circadian rhythm, leading to better sleep quality and duration.
Examples:
Child's Pose
Legs up the wall
Corpse Pose
Cat-Cow Pose
Forward Fold Pose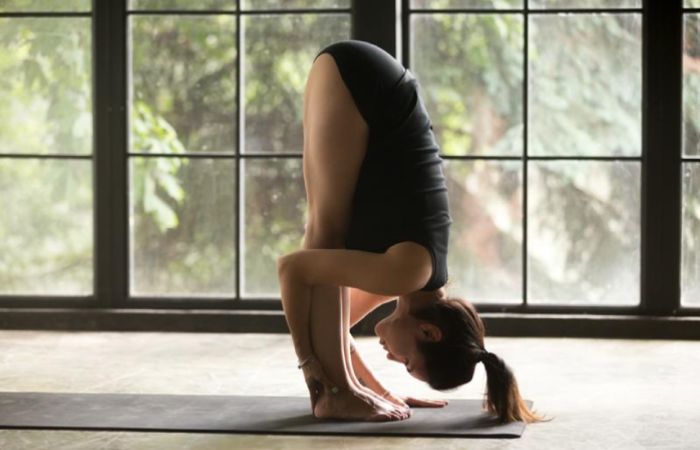 Enhanced Mood and Emotional Well-being
Yoga helps reduce cortisol levels, improving mood and emotional well-being through the release of endorphins, chemicals produced by the body as natural painkillers and mood enhancers.
The physical postures and movements in yoga stimulate the release of endorphins, leading to feelings of pleasure and well-being.
Yoga encourages mindfulness and self-awareness, which can help people better understand their emotions and how to manage them.
Examples:
Sun Salutations
Tree Pose
Camel Pose
Child's Pose
Downward-Facing Dog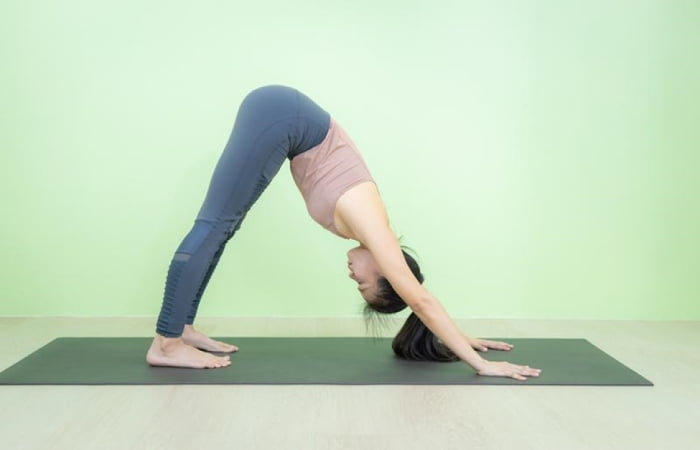 Reduced Anxiety and Depression Symptoms
Scientific research has shown that regular yoga practice can effectively reduce symptoms of anxiety and depression through its effect on the nervous system.
Yoga calms the mind and reduces stress by activating the parasympathetic nervous system, which is responsible for the body's relaxation response. It reduces levels of the stress hormone in the body, which can help to alleviate symptoms of depression.
Increase mindfulness and self-awareness through practicing yoga. Letting a yogi learn to focus on the present moment and become more aware of their thoughts and feelings. This can reduce negative self-talk and promote a more positive outlook in life.
Examples:
Child's Pose
Downward-Facing Dog
Forward Bend
Savasana
Sukhasana
Upward-Facing Dog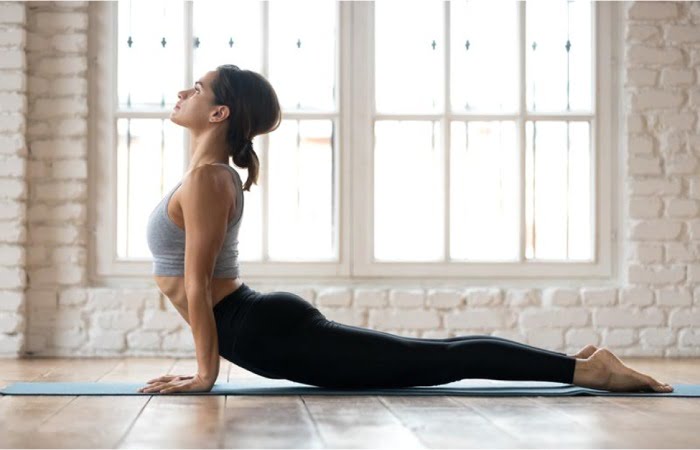 Connection with Inner Self
Through yoga, you can deepen your awareness of your body, breath, and mind, leading to a greater understanding of yourself and your inner workings.
The various postures (asanas), breathing techniques (pranayama), and meditation techniques can help you to connect with your inner self. Asanas help release physical tensions and blockages, creating space for emotional and mental clarity. Pranayama helps to regulate the breath and calm the mind, which can bring about a sense of peace and stillness. Meditation lets you observe your thoughts and feelings without judgment, which can lead to greater self-awareness and understanding.
Examples:
Camel Pose
Child's Pose
Corpse Pose
Forward Fold
Mountain Pose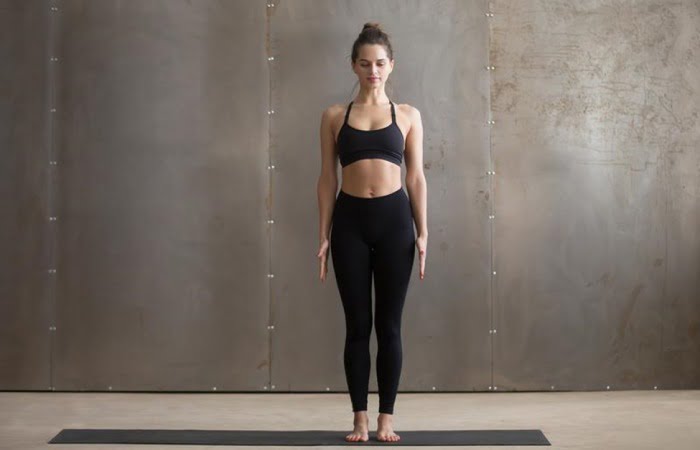 Cultivation of Mindfulness and Self-awareness
Through yoga, individuals learn to focus on their breath and bodily sensations, which help them to become more present. This presence allows them to become more aware of their thoughts, emotions, and physical sensations, leading to increased self-awareness.
Yoga also helps individuals to develop mindfulness, which is the ability to focus on the present moment without being distracted by external or internal stimuli. Mindfulness helps individuals to cultivate a deeper understanding of themselves, allowing them to recognize better and manage their emotions and thoughts. As a result, individuals are more likely to respond to situations calmly and rationally rather than reacting impulsively.
Examples
Child's Pose
Mountain Pose
Savasana
Tree Pose
Warrior II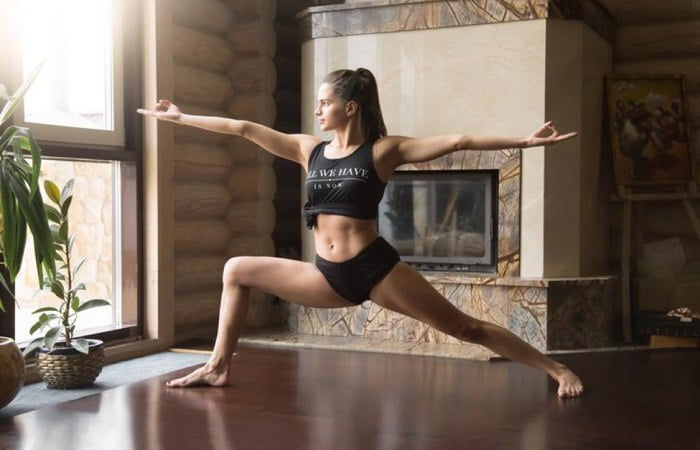 Promotion of self-acceptance and Self-love
Through yoga, we learn to connect our mind and body, which helps develop a positive body image. Feeling good makes us more likely to love and accept ourselves.
Yoga is an effective tool for reducing stress and anxiety. When we are less stressed, we are more likely to have a positive self-image.
Yoga teaches us to practice compassion towards ourselves and others. When we learn to be kind and loving towards ourselves, we are more likely to accept ourselves as we are.
Yoga involves practicing mindfulness, which means being present in the moment without judgment. When we practice mindfulness, we are more likely to accept ourselves without judgment and love ourselves unconditionally.
Examples:
Child's Pose
Warrior II
Tree Pose
Savasana
Bridge Pose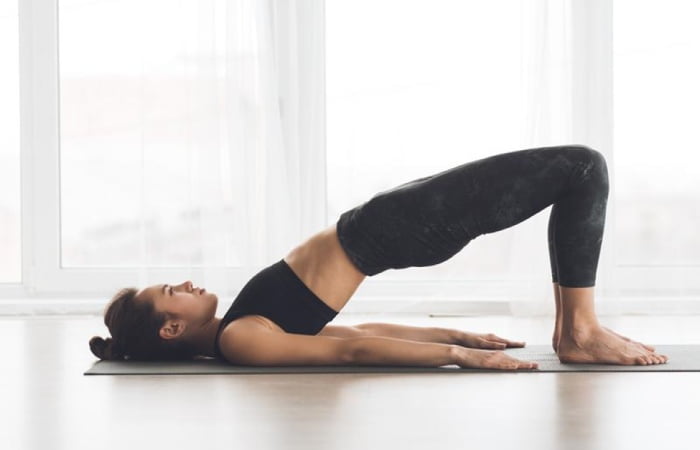 Deepening Spiritual Connection and Inner Peace
According to scientific research, yoga appears to be positively associated with spirituality.
One of the ways yoga helps deepen spiritual connection is by encouraging mindfulness and present-moment awareness. Through the practice of yoga, individuals learn to focus their attention on their breath and physical sensations, which can help quiet the mind and cultivate a deeper sense of awareness. This can lead to a greater sense of connection to the world around us and a deeper understanding of our place in it.
Yoga can help individuals connect with their inner selves and tap into their intuition. By exploring different postures and breathing techniques, individuals can become more attuned to their bodies and their inner world. This can help them develop a stronger sense of self-awareness and inner wisdom, which can lead to greater inner peace and spiritual connection.
Examples:
Lotus Pose
Downward-Facing Dog
Child's Pose
Tree Pose
Corpse Pose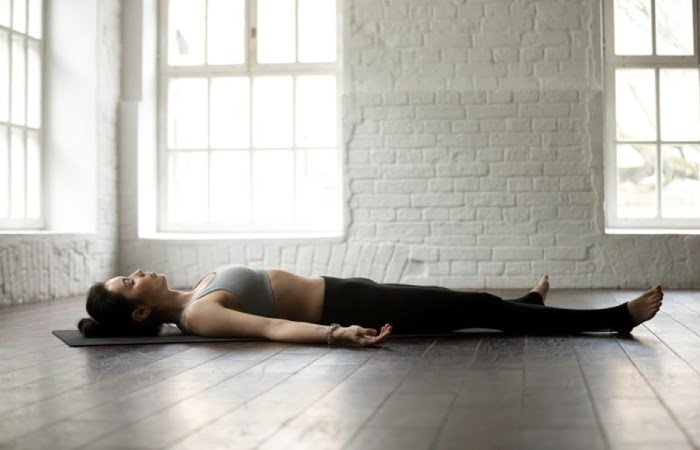 Developing Resilience and Coping Mechanisms
A study has revealed that mindfulness yoga can positively impact psychological functioning. It can help people observe their thoughts and feelings without judgment, leading to a sense of detachment from these experiences.
Through the physical movements involved in yoga, individuals build strength, flexibility, and balance in their bodies. This physical strength helps develop resilience by showing individuals that they can overcome physical challenges, which translates to emotional strength and the ability to overcome mental and emotional challenges.
The controlled breathing techniques in yoga develop coping mechanisms when faced with challenging situations.
Mindfulness techniques practiced in yoga can help individuals develop a greater sense of self-awareness, which can help them recognize and manage their emotions more effectively.
Examples:
Mountain Pose
Warrior II
Tree Pose
Downward-Facing Dog
Child's Pose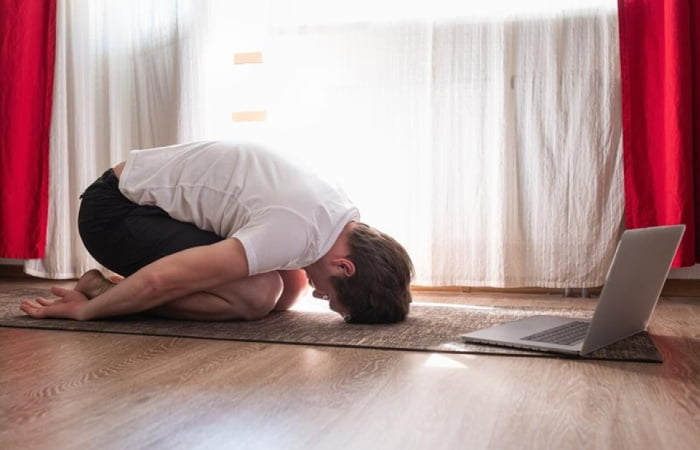 Additional Health Benefits of Yoga
Yoga can be a complementary practice to water fasting, as it can help to reduce stress and improve mental clarity, both of which can be beneficial during a fast.
Research has indicated that practicing yoga positively impacts cardiovascular risk factors and the sympathetic nervous system.
Increases energy levels and vitality
Boosts immune system
Alleviates chronic low back pain and discomfort
Improves digestion and detoxification
Promoting healthy eating
Promotes bone health
Deepens connection with oneself and the universe
Aids in weight loss
Yoga can be an effective treatment for post-traumatic stress disorder
Overcoming Common Obstacles
Finding the Right Style and Approach
The best way to find the right style of yoga is to try a few different yoga classes and see what you like best. Talk to your yoga instructor about your goals and preferences, and they can help you find a style that is right for you.
Here are some additional factors to consider when choosing a yoga style:
Your fitness level: If you are new to yoga, you will want to choose a style that is gentle and accessible. If you are more experienced, choose a more challenging style.
Your interests: Some yoga styles focus more on physical practice, while others focus more on breathwork, meditation, or spirituality. Choose a style that interests you and that you think you will enjoy.
Your goals: What do you hope to achieve through yoga? If you want to improve your flexibility, choose a style like Yin Yoga. To combat insomnia, choose a style like Yoga Nidra. The usual pose for Yoga Nidra practice is Shavasana or Corpse Pose.
Once you have found a style of yoga you like, the next step is to find a qualified yoga teacher to help you learn the poses safely and effectively. They can also help you modify the poses if you have any injuries or limitations.
Incorporating Yoga into a Busy Lifestyle
If you have a busy lifestyle, incorporating yoga can be challenging, but it is possible with some planning and determination. Here are some tips that can help:
Start small. You don't have to commit to a full hour-long yoga class every day.
Find a routine that works for you. Whether waking up early to do yoga before work or squeezing in a session during your lunch break, find a routine that fits your schedule and stick to it.
Use online resources. Plenty of online yoga classes and tutorials are available that you can do from the comfort of your home. This can be a great option if you don't have time to go to a studio.
Make it a priority. It's easy to let other things take priority over your yoga practice, but it's important to remember that taking care of yourself should always be a priority. Block off time in your calendar for your yoga practice so that you're more likely to stick to it.
Take advantage of downtime. If you have a few minutes of downtime during the day, use that time to do some quick yoga stretches. It's a great way to get a little bit of yoga in without disrupting your schedule.
Overcoming Physical Limitations and Injuries
Yoga is an excellent exercise that can benefit the body, mind, and soul. However, yoga can be challenging for people with physical limitations and injuries. The good news is that there are ways to overcome these limitations and injuries and still enjoy the benefits of yoga.
Here are some tips on how to overcome physical limitations and injuries on practicing yoga:
Consult with a medical professional. Before starting any yoga practice, it is crucial to consult your physical therapist or doctor. They can provide you with the necessary guidance.
Modify the poses. There is always a modification available for any yoga pose. If you have an injury or physical limitation, modify the pose to suit your needs.
Focus on your breath. Yoga is not just about physical practice but also about the breath. Concentrating on your breath can help you stay present in the moment and tune in with your body. This can help you avoid further injury and improve your overall well-being.
Take it slow. Taking it slow when practicing yoga with physical limitations and injuries is essential. Don't push yourself too hard, and listen to your body. Start with gentle yoga poses and gradually increase the intensity as your body allows.
Here are some additional tips for people with physical limitations or injuries who are interested in practicing yoga:
Start with a gentle style of yoga, such as hatha or yin yoga. These styles focus on slow, controlled movements and holding poses for longer periods of time, which can be easier on the body.
Avoid poses that put too much strain on your joints or muscles. If a pose is painful, modify it or come out of it completely.
Be sure to warm up before you start your practice. This will help to prepare your body for the physical demands of yoga.
Listen to your body and take breaks when needed. Don't try to push through the pain.
End your practice with a cool-down. This will help your body to relax and recover.
Tips to Getting Started with Yoga
Find a qualified yoga instructor who can teach you the poses safely and effectively.
Start with a beginner yoga class and gradually progress to more challenging poses as you become more comfortable.
Listen to your body, and don't push yourself too hard.
Be patient and consistent with your practice.
Make yoga a part of your daily routine.
Conclusion
In a world where constant distractions and external pressures abound, yoga provides a sanctuary for self-care and self-improvement. Its holistic approach to well-being addresses the physical, mental, and spiritual dimensions of our being, making it a comprehensive and powerful practice. Whether you seek improved physical fitness, mental clarity, stress relief, or a deeper connection with yourself, yoga offers many benefits.
With its profound and transformative effects on the body, mind, and spirit, yoga is a practice that everyone should consider incorporating into their lives. The benefits are undeniable, and the rewards are boundless. So why wait? Start practicing yoga today and embark on a journey of self-discovery, inner peace, and holistic well-being.
Author Bio
Rick Kaselj is a highly respected health and fitness expert with over two decades of experience. He founded ExercisesforInjuries.com, OliviaDiet.com,  Gentlestretching.net, Lifelongwellness.org, and HealthNewsDay.com, where he provides valuable resources on fitness, injury prevention, and healthy eating. Rick's unique approach to fitness emphasizes targeted exercises and proper form, promoting long-term health and injury prevention. His expertise is showcased in his numerous books and training programs, which have helped countless individuals improve their physical health and well-being. Rick's dedication to helping people achieve their health goals has earned him a reputation as a trusted authority in the industry.
Social:
FB – https://www.facebook.com/oliviadietcom
YT- https://www.youtube.com/exercisesforinjuries
Twitter – https://twitter.com/OliviaDiet
IG – https://www.instagram.com/exercisesforinjuries/