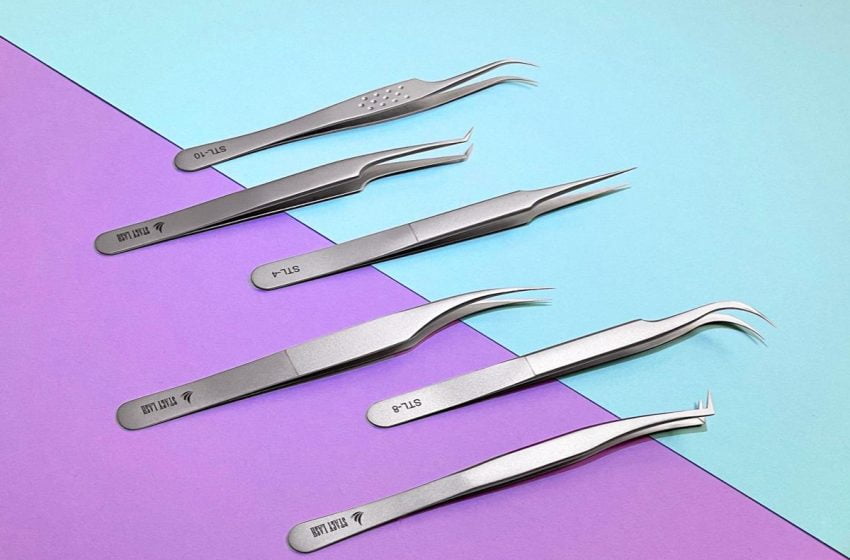 Tweezers Unleashed: Exploring the Different Types for Lash Extension Experts
In the field of eyelash extensions, precision and attention to detail are paramount. Lash extension experts understand the importance of using the right tools to achieve flawless results. Among the various tools used, lash extension tweezers hold a special place in the hearts of professionals. These small but mighty instruments play a crucial role in the application process and require careful consideration. In this article, we will delve into the world of Stacy Lash professional eyelash tweezers, exploring the different types available and how they can elevate the work of lash extension experts.
Classic Tweezers
Classic tweezers are the foundation of any lash extension professional's toolkit. These tweezers typically feature a straight design with precision-aligned tips. The straight shape provides stability and control during the application process. Classic tweezers are versatile and well-suited for picking up individual lash extensions and precisely placing them on the natural lashes.
One of the key benefits of using classic tweezers is their ease of use. Their straightforward design allows for a comfortable grip, enabling lash extension experts to work with precision and accuracy. However, it's important to note that classic tweezers may require a bit more effort when it comes to isolating individual lashes. Professionals should be mindful of practicing proper technique to avoid any potential challenges.
When choosing classic lash extensions tweezers, it's essential to consider the material and quality. High-quality stainless steel tweezers offer durability and ensure that the tips maintain their alignment over time. Additionally, professionals should regularly inspect and maintain their tweezers to ensure optimal performance.
Volume Tweezers
For those looking to create fuller, more voluminous lash sets, volume tweezers are a game-changer. These tweezers are specifically designed to facilitate the creation of volume fans, where multiple lash extensions are applied to a single natural lash. Volume tweezers feature a fine and curved tip that aids in creating and holding volume fans during the application process.
The main advantage of volume tweezers is their ability to pick up and manipulate multiple lash extensions simultaneously. This saves time and effort while achieving a fuller lash appearance. However, working with volume tweezers requires finesse and a delicate touch. Professionals must master the technique to ensure the proper placement and adherence of the volume fans.
When working with volume tweezers, it's crucial to choose tweezers with a balanced tension. This helps to maintain control and prevent excessive pressure on the lashes. Additionally, considering the curvature of the tweezers can enhance precision and ease of use when creating volume fans.
Isolation Tweezers
Isolation tweezers are the unsung heroes of the lash extension world. Their primary purpose is to isolate individual natural lashes, ensuring clean and precise separations. Isolation is a critical step in lash extension application, as it prevents lashes from sticking together and ensures proper attachment of the extensions.
Isolation tweezers feature a fine and pointed tip, allowing professionals to isolate individual lashes without causing any damage or discomfort to the client. These tweezers require a steady hand and attention to detail. Professionals should practice patience and precision when working with isolation tweezers to achieve the best results.
To effectively use isolation tweezers, professionals should position them at the base of the lashes, gently separating them one by one. It's important to maintain a soft grip and avoid excessive pressure to prevent any potential harm. Regular cleaning and maintenance of isolation tweezers are vital to remove any adhesive buildup and maintain their performance.
Specialty Tweezers
In addition to the classic, volume, and isolation tweezers, there is a wide range of specialty tweezers available to cater to specific needs and techniques. Curved tweezers are particularly useful for reaching difficult angles and enhancing precision. Angled tweezers offer versatility and can be used for both classic and volume lash application. Pointed tweezers are excellent for isolating individual lashes and achieving meticulous separations.
Specialty tweezers can greatly enhance the lash extension professional's toolkit, providing options for different styles and lash application techniques. However, it's important to experiment and find the right balance between personal preference and the desired outcome.
Conclusion
In the world of lash extensions, tweezers are indispensable tools that can make or break the final result. Professionals must consider the various types of tweezers available and their specific features and benefits. Classic tweezers offer versatility, while volume tweezers enable the creation of fuller lash sets. Isolation tweezers ensure precise separations, and specialty tweezers provide additional options for specific needs. By understanding and utilizing the different types of tweezers, lash extension experts can elevate their skills and deliver exceptional results to their clients.