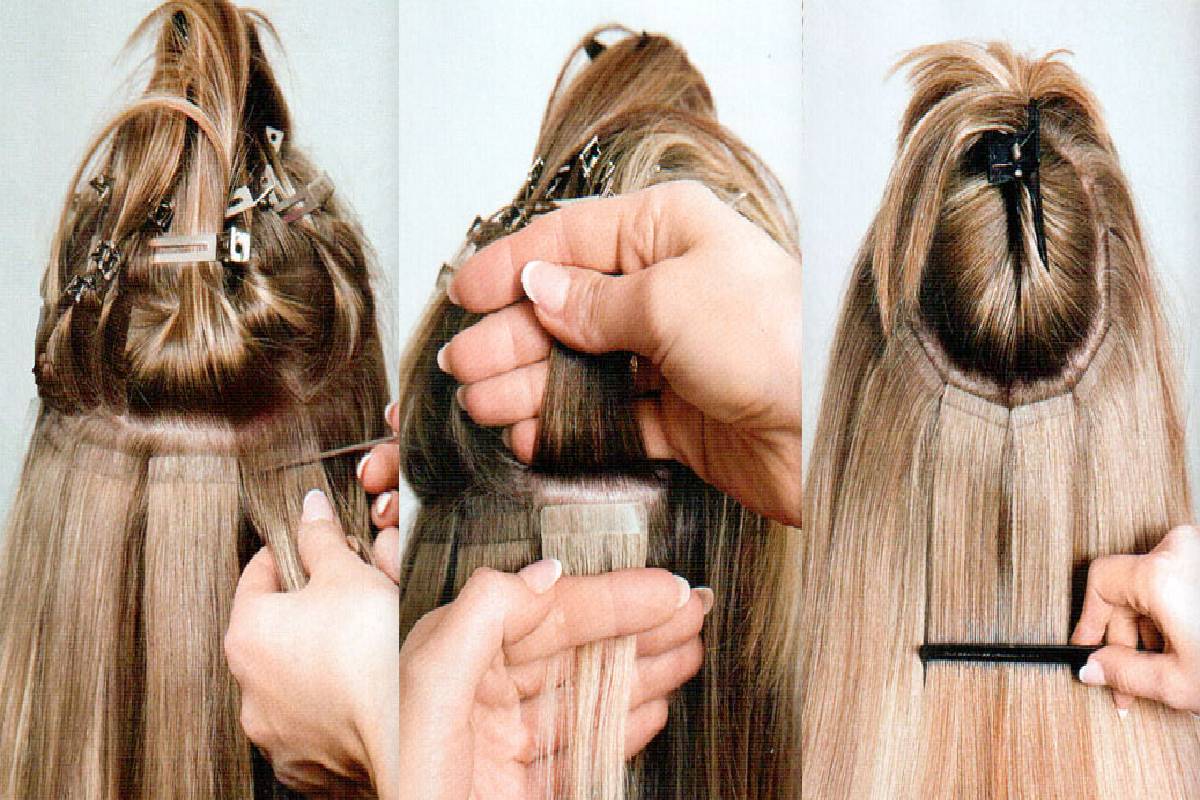 Tape In Hair Extensions – Adhesive For Tape Hair Extensions
Tape In Hair Extensions
The better you take care of your tape in hair extensions, the longer it will last. Our hair has natural oils that keep hair healthy, but this is not the case with hair extensions.
If you want to keep them with excellent quality to reuse and reposition them, you must know how to take care of the adhesive tape for hair extensions.
How to take care of your adhesive tapes for hair extensions?
1.- Take care of the adhesive tapes for extensions: When placing them
It must be clarified with shampoo BEFORE going to your stylist.
It is KEY. The stylist should also use clarifying shampoo before installing the hair extensions, and the conditioner should not be used during hair application.
Important, wait 48 hours before shampooing your hair after placement. When you apply tape for hair extensions, you will have to wait at least 48 hours to wet or wash your hair with shampoo.
Because they will probably fall off. The tape needs a minimum of 48 hours to adhere to your hair thoroughly. During the first week, be very careful when you wash it.
2.- Take care of the adhesive tapes for extensions: When washing them
Keep your hair extensions clean and detangled by taking time to care for them every day.
Do your best to use sulfate-free shampoo and conditioner, as well as 100% natural hair products to keep your hair extensions in good condition.
It would help if you used a shampoo and conditioner that does not contain sulfates or parabens.
It goes for anyone, but especially if you have tape extensions. Sulfates and parabens are chemical detergents used in products like dish soap that are harsh on their natural oils' scalp and strip hair.
Using the wrong shampoo and conditioner will shorten its shelf life, dry out, and make it very difficult to handle.
The technique of washing your hair with masking tapes is different from washing only natural hair. You have to be thorough.
It takes longer, but you can do it less often! It would be best if you used shampoo everywhere you can.
Detangle frequently, lift the strands and make sure they are well moistened, gently massaging the layers' shampoo.
Don't forget under your hair and behind your ears too! You'll want to rinse the same way you apply it, lifting each layer.
Rinsing the shampoo off the extensions takes time, so be sure to rinse between each coat. For the conditioner, be sure only to apply it from the middle of the shaft down.
Then gently rub the remaining amount over the scalp and rinse well. Most people advise you not to do this with extensions,
Never put conditioner on the roots of your hair. It could cause the tape hair extensions to come off.
You don't need conditioner on your roots anyway. It also includes anything greasy, like sprays, oils, silicone.
Do not use products that contain alcohol or ethanol as this can damage the hair extensions and again wear away the adhesive.
3.- Take care of the adhesive tapes for extensions: When brushing them
Do not comb or brush the hair extensions while the hair is wet.
Brush your hair several times a day with a specific boar bristle hair extension brush. Make sure to brush properly.
I am holding the roots to avoid pulling on the links. Use a wide-tooth comb to remove tangles if necessary.
Use high-quality hair care products, but don't overdo them. Too much hair care product can cause build-up and tangles over time. So you have to be careful with the amount of product you use.
When using hot tools (tweezers, irons, dryers), be sure to use a heat protection spray. The more you use heat on your hair, the shorter the life of the extensions.
Do not use a flat iron directly on the tabs of the tape. It will weaken the bond of the joints, and they will fall off.
Never sleep with your hair extensions wet. Always make sure your hair is dry and tied up or, preferably, braided to prevent hair from tangling overnight.
4.- Take care of the adhesive tapes for extensions: By maintaining them
Dry shampoo is your new best friend. Don't wash your hair every day – as we already recommend.
Many women do not know that extensions absorb a lot of the oil that their scalp produces.
Use a boar bristle brush several times a day to help pull this oil through your hair and hair extensions. Think of this as nature's hair conditioner.
When your scalp starts to look a bit oily, use a dry shampoo to help absorb and refresh your scalp.
You can go 2-4 days without having to shampoo. It will help your tape hair extensions last much longer.
Don't bleach your hair extensions. If you want to color the hair extensions, go inside 2 shades DARKER.
When you go to the gym, do physical activities or swim with hair extensions, be sure to remove excess sweat and chlorine after exercising.
When using serums, toners or oils, avoid contact with the tape. Use it only on the ends.
We use natural products like coconut oil on the extensions' ends to keep the hair healthy and shiny over time.
Every 6-10 weeks, the hair extensions will need to be reapplied to bring the bonding bonds closer to the scalp and keep the hair healthy.
Since the average natural hair loss of a person is 50-100 strands per day, you will see a small amount of hair released naturally between the tape bonds at the removal time.
It is normal and should not be construed as hair loss due to the use of hair extensions.
Also Read: Body Makeup – Types of Body Makeup and More